Environmental tobacco smoke
ETS can cause cancer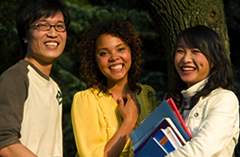 Environmental tobacco smoke (ETS), or secondhand smoke, is a mix of chemicals that results from burning tobacco (cigarettes, cigars, pipes) and from exhaled smoke.
ETS is a known human carcinogen: it causes cancer. No level of exposure is safe. Breathing ETS can cause heart disease and lung cancer in adults. According to the CDC and EPA, ETS is the third leading cause of lung cancer, after cigarette smoking and exposure to radon. In Minnesota, lung cancer is the second most commonly diagnosed cancer among men and women and the leading cause of cancer death.
ETS is especially hazardous to children
ETS is especially harmful to children because their bodies are developing, yet nonsmokers aged three to 19 years of age are among the most exposed groups of nonsmokers in the U.S.
ETS increases the risk for:
sudden infant death syndrome

(SIDS)

respiratory

illness
middle-ear disease
exacerbation (worsening) of asthma in children

low birth weight

(a newborn's birth weight is closely related to its risk of early death and long-term

morbidity)
ETS exposure can be prevented
Nonsmoking adults are most likely to be exposed to ETS at home or at work, while children are most likely to be exposed at home.
Since Freedom to Breathe legislation was passed in Minnesota in 2007, smoking was banned in most workplaces and other public indoor spaces. It appears that this legislation has reduced ETS exposure to nonsmokers in Minnesota. However, many areas are not regulated, including: homes, cars, and outdoor spaces. To learn more about Freedom to Breathe legislation, go to the MDH Minnesota Clean Indoor Air Act webpage.
Avoid exposure to ETS by choosing smoke-free restaurants, hotels, and having smoke-free rules for your home and car. These protect people from ETS and send a message that smoking is not healthy, especially around children.
To learn how to prevent ETS exposure, see the U.S. Surgeon General's How to Protect Yourself and Your Loved Ones from Secondhand Smoke Fact Sheet. If you smoke, the best way to protect your family or children from exposure to ETS is to quit smoking. Visit www.quitplan.com or call the free QUITPLAN Helpline at 1-888-354-PLAN (7526).
What is being done about ETS?
The MDH Tobacco Prevention and Control Program connects people to resources about tobacco prevention including smoking cessation, the effects of tobacco use, educational materials to prevent tobacco use, and guidance on community-based programs.
The Minnesota Center for Health Statistics produces Tobacco Reports from the Minnesota Youth and Adult Tobacco Surveys.
E-cigarettes are devices that some people use to inhale vapor that contains nicotine and other chemicals. They are often designed to look like cigarettes, which can complicate enforcement of Freedom to Breathe and other smoke-free laws. There is no evidence that using e-cigarettes or inhaling their secondhand vapor is safe. Some Minnesota communities have banned the use of e-cigarettes, and it is illegal to sell them to minors in Minnesota. To learn more about e-cigarettes and what can be done to regulate them, see information on electronic cigarettes.
Related topics: