West Nile virus - MN Public health Data Access portal
West Nile virus
These data still accurately reflect the general trends of West Nile Virus disease in Minnesota. More recent numbers will be updated when data becomes available.

West Nile virus is the most commonly reported mosquito-borne disease in Minnesota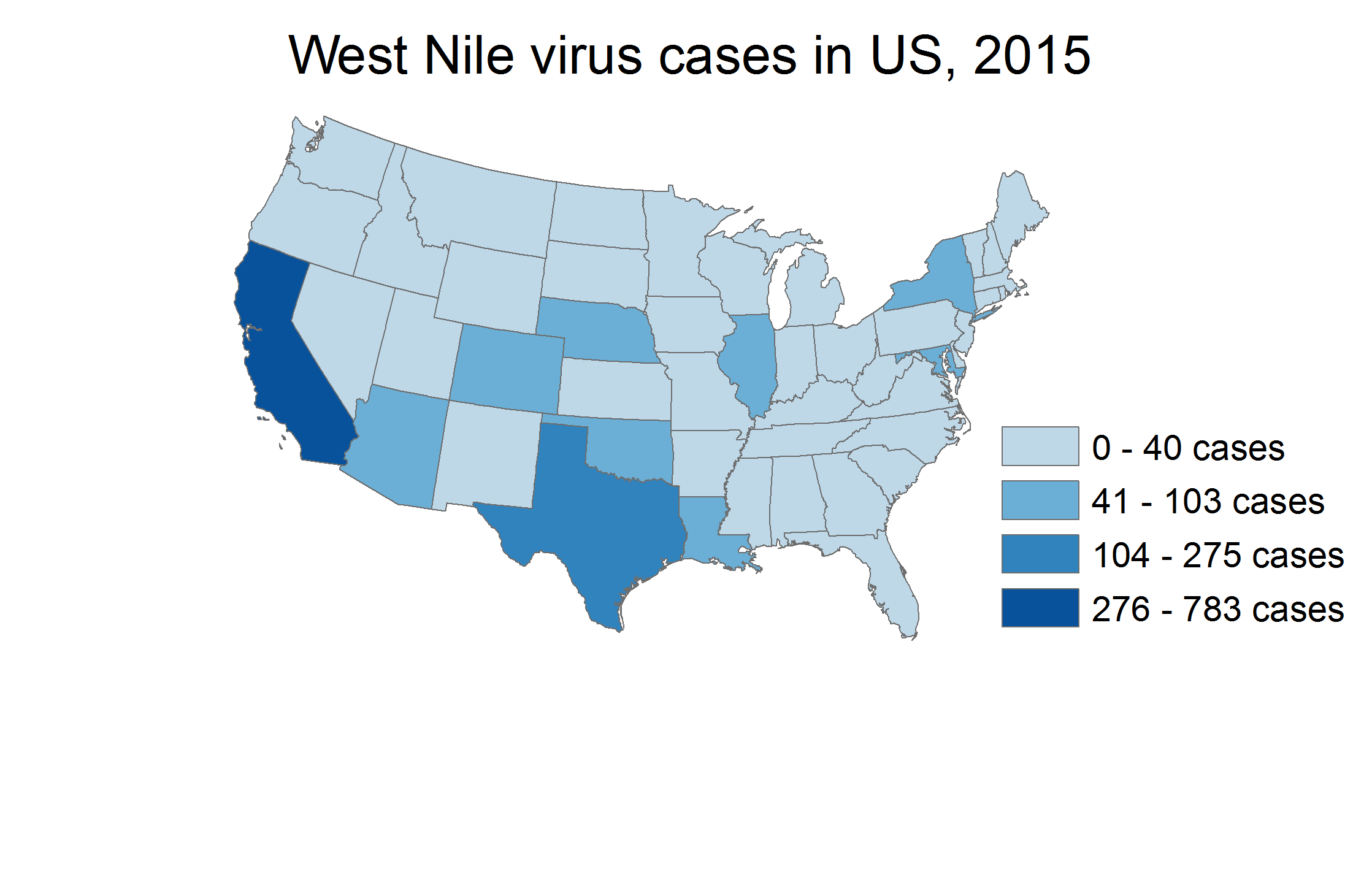 West Nile virus (WNV) is transmitted to people and horses through the bite of an infected mosquito. Culex tarsalis, a common mosquito in agricultural regions of western and central Minnesota, transmits WNV to humans.
Most people infected with WNV show either no symptoms or flu-like symptoms, but some (typically elderly) experience more severe illness or death.
Human WNV cases were found in MN in 2002. WNV is widespread with WNV cases occurring in 48 states. In 2015, there were 2,175 human cases of WNV nation-wide, with 9 confirmed WNV cases in Minnesota.
Avoid mosquito bites
The highest risk areas for WNV in Minnesota include the western and central portions of the state. Open areas, such as farm land and prairie, provide the best habitat for the primary mosquito vector of the virus, Culex tarsalis. These mosquitos are different from container-breeding mosquito species that breed in objects like tires. Instead these mosquitos typically breed in semi-permanent wetlands and stagnant drainage ditches.
People who are outdoors in these areas, such as farmers, other outdoor workers, and outdoor enthusiasts are more at risk for being bitten by an infected mosquito. Older people are more at risk for developing severe illness, such as encephalitis.
To avoid mosquito bites:
Use mosquito repellents with 30% DEET
Avoid outdoor activity at dusk and dawn (peak feeding time for many mosquitoes)
Wear long-sleeved shirts and long pants
Install or repair screens on windows and doors
Remove small pools of standing water from around your home (mosquito breeding grounds)
What is being done about West Nile virus?
Related topics: