Chronic Obstructive Pulmonary Disease (COPD): MNPH Data Access - MN Dept. of Health
Chronic obstructive pulmonary disease
COPD is a major cause of death
Chronic obstructive pulmonary disease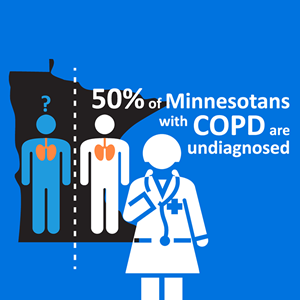 (COPD) is a group of lung diseases that makes it difficult to breathe. Other names for COPD include emphysema and chronic bronchitis. COPD is the fifth-leading cause of death in Minnesota.
The symptoms of COPD can begin among adults in their 40s, 50s or 60s. COPD symptoms worsen over time, and COPD hospitalizations occur most often in older people. The prevalence of COPD is higher in males than females, in Whites than in Blacks, and increases with age. Lower income adults have higher rates of emphysema and chronic bronchitis.
Smoking is the leading cause of COPD
Smoking is the leading cause of COPD. Other risk factors for COPD are long-term workplace exposures to certain environmental lung irritants and genetic predisposition. There is no cure, but measures can be taken to prevent COPD, slow the progression of the disease, and prevent COPD exacerbations, such as:
Sign up to receive
air quality alerts by text, or email, or download the app..

Quit smoking
Avoid exposure to

environmental tobacco smoke

Avoid exposure to air pollution
Avoid exposure to certain gases, fumes and dusts in the workplace
Take precautions against influenza and respiratory infections
Recognize the symptoms of COPD
It's important to recognize COPD early so that it can be treated and managed. Individuals who experience the symptoms of COPD should talk to their doctor. Symptoms include:
Shortness of breath doing everyday activities
Chronic cough
Wheezing
Frequent respiratory infections
What is being done about COPD?
Related topics: