MN Public Health Data Access Home
MN Public Health Data Access Portal
Environmental public health data can be used to inform policies, change behavior and help communities uncover issues to develop solutions and protections for the hazards, exposures and socioeconomic factors that influence our health. Search here to find environmental issues, trends, geographic patterns and disparities in Minnesota.
New! Health impacts of air pollution: Life and Breath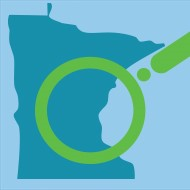 While all Minnesotans are susceptible to the health impacts of air pollution, these impacts do not affect all Minnesotans equally. Structural inequities formed through institutional systems like city planning, infrastructure, and policies have led to disparities in local source pollution. Learn more in two new data briefs Life and Breath: Metro (updated 2022) and Life and Breath: Greater Minnesota (2022).